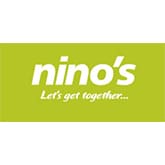 Infused in ever crumptious moresl a Nino's meal is the idea that life, like good food, is meant to be shared.
Today, Nino's continues to reflect our founder's exacting standards with our deliciously, aromatic coffees and variety of delectable breakfasts and mouth-watering lunches. While over time we have opened our kitchens to incorporate a wider range of dishes – drawing inspiration from European flair, Mediterranean simplicity and local zest – Nino's remains true to Bompani's vision:
A place where quality, family and good food meet..